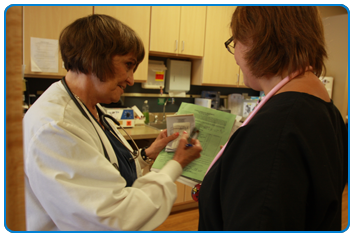 Our clinics are staffed with Family Nurse Practitioners and Physician Assistants that have been trained and credentialed to see all ages across the life span. They can diagnose and treat acute and chronic illness.
Nurse Practitioners (NPs) are registered nurses with advanced education and clinical training who provide a wide variety of health services. NPs also focus care on health promotion, disease prevention, health education and counseling.
The Nurse Practitioners at Express Care Clinic are licensed by the State of Nebraska and certified as Family Nurse Practitioners, meaning they have been educated to provide care for people of all ages. The NPs have obtained master's degrees' and practice in collaboration with a Nebraska licensed physician.
Nurse Practitioners and Physician Assistants provide a unique blend of nursing and medial care. They can assist you to make wise health and lifestyle choices. They are your partners and advocates in health care.